Today my heart is breaking.
The actor and legend, Peter Falk, passed away yesterday. I have absolutely adored Peter my whole life and I am so sad that he has left us. :(
"Just one more thing..."
My time at home was not always easy but I do remember spending countless hours sitting on my parents' bedroom floor doing homework and watching Columbo with my dad. These were happy, peaceful times.
Many years later, I found myself curled up on the sofa with my husband watching the same re-runs and loving them every bit as much.
And, of course, there's the AMAZING film, The Princess Bride. (Among many.)
"That's right. When I was your age, television was called books."
Peter Falk is the only celebrity I've ever written to and his autograph is the prize of my collection.
A few years ago, my husband and I drove all the way to London to go to a signing he was attending, only to be told that he'd cancelled due to ill health. And that was the last chance. A few weeks later, it was announced that he was suffering from dementia.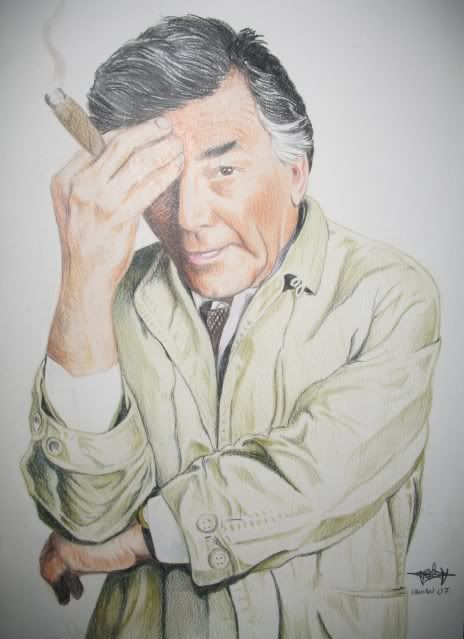 (A drawing my DH did for me.)
As sad as I am, I know that Mr. Falk's journey is just beginning. I hope that whatever comes next for him, that he is surrounded by happiness and love. Whatever his next life holds, I hope he is, in some way, rewarded for all the joy he has brought to us.
Farewell, Peter Falk. As long as there is a Columbo re-run airing, anywhere in the world, you can never be forgotten.
Source:
BBC News
.